The Derby Impact, Collaboration and Engagement (DICE) Network, based in Innovation & Research at the University of Derby, is focused on bringing together the benefits of the University's research to users, communities and partner organisations. The network creates dialogues that seek to tackle real-world challenges, linking academics, external partners, and the public to encourage collaborative practice, knowledge exchange, public engagement and policy work to deliver high-quality impact.
DICE is led from Innovation & Research by Associate Professor, Dr Larissa Allwork and Impact Officers, Dr Claire Sedgwick and Dr Lenore Thompson. Following a successful masterclass with the National Institute for Health Research Design Service on Patient and Public Involvement in March 2023 organised by Sedgwick, the team held two DICE masterclasses in July focused on providing engagement, collaboration and impact training to academics and public participants in relation to two of the University's core academic themes (Creative and Cultural Industries; Zero Carbon) and supporting new or recently reopened venues in Derby City.
The DICE masterclass held on 3rd July 2023 was led by Dr Thompson and co-curated with Professor John Steel and Professor Ang Bartram, who are the University's Creative and Cultural Industries Academic Theme Leads. The masterclass took place at the recently reopened Dubrek Studios and featured a tour of the University's creative enterprises at Banks Mill Studios. The focus of the masterclass was on engaging with diverse voices in the creative and cultural industries. It included a keynote by one of the University's Visiting Professors, Martin James, which explored the economic, social, and cultural factors that build and sustain a creative music city.
At the masterclass, a panel chaired by Professor Steel reflected on best practice in relation to engaging with diverse audiences. This featured Evelyn Wilson, Co-Director of the National Centre for Academic and Cultural Exchange (NCACE) and the Cultural Capital Exchange; Laura Philips (Derby Museums) and researchers from the University of Derby, including Associate Professor, Dr Gurvinder Aujla-Sidhu, Professor Sam Kasule and Associate Professor, Dr Caroline Locke. The subsequent interactive workshop led by Wilson and Dr Laura Kemp (NCACE) encouraged gathered participants to reflect on the meaning of diversity within the context of their organisations. The audience engaged a mix of academics, public engagement professionals and representatives of the creative and cultural industries regionally and nationally.
DICE also held a further masterclass on 13th July at Electric Daisy's newly opened community garden in Derby, which looked beautiful and in bloom during the British summertime. The venue was perfect for exploring the theme of the masterclass. Namely: how is Derby and Derbyshire responding to climate change? And how can the University work closely with regional partners and communities to tackle climate change?
Various perspectives were contributed throughout the morning, ranging from Jamie Quince-Starkey (Down To Earth, Derby) who spoke about the city of Derby and the power of urban community gardens to reconnect people with nature to Dr Carly Butler from the University's Nature Connectedness Research Group, who explained the psychological factors and practices that improve people's connection to nature, an approach which has led to various projects regionally and nationally. Lisa Witham, from Derbyshire Wildlife Trusts, showed how the education and engagement work of Wilder Communities has encouraged people from diverse communities across the city and region to care and act for nature. Dr David Elliott, Derby's Associate Professor in Microbiology tested the air, engaging the audience with his CO2 analyser, while Professor Chris Sansom and Dr Tugba Gurler reminded people of engineering pathways to carbon reduction through attractive solar panel technology and the decarbonisation of buildings in Derbyshire. The masterclass ended with the Electric Daisy team leading participants through an activity which involved building planters and bedding in mint, sage, and other flora. The planting was great as it allowed people to build new networks, collaborate and connect with nature, all at once! The DICE Zero Carbon masterclass was co-curated by Professor Sansom (the University's Zero Carbon Academic Theme Lead) with Associate Professor Allwork and was further supported by the University of Derby's Business Gateway team.
Further DICE masterclasses linked to Derby's other academic themes are planned for 2023-24. These masterclasses are an exciting element of how the University of Derby delivers against its commitment to be an anchor institution within the county of Derbyshire. They are also a celebration of the University's achievement in 2022 of a National Co-ordinating Centre for Public Engagement Bronze Award, which recognized the University's commitment and excellence in public engagement and its fulfilment of research and academic practice for the benefit of communities.
For more information about future masterclasses, please contact: urkeo@derby.ac.uk
Signed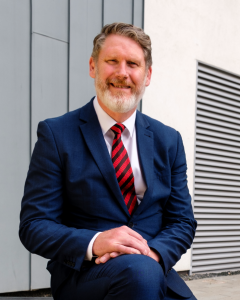 Prof. Warren Manning
Provost, Innovation and Research, University of Derby