September is traditionally one of the most highly anticipated months in the calendar of any university as we mark the beginning of the academic year and the return of students and teachers to the classroom. Rather than looking ahead to what is to come, I'd like instead to take a moment to reflect on what we have achieved in the context of healthcare since my last article.
At Coventry University Group, we pride ourselves on being disruptors and innovators and this is particularly true when it comes to healthcare. With our state-of-the-art facilities, as well as our longstanding relationship with healthcare providers at a regional and national level, we're committed to building our reputation and influence in the world of health.
Our students are dedicated, passionate and caring regardless of the healthcare profession they are involved in – and this has been on full display over the last few months. From midwifery, where student midwife Michelle Poole was recognised for her care and compassion with a DAISY award nomination, to retrained mental health nurse Leanne Howlett designing a wellbeing pack to help those suffering from depression, our students continue to go above and beyond in making a tangible difference to those around them.
We are also fortunate to boast experts in numerous healthcare disciplines among our academic colleagues. With exam results at the forefront of minds across the education sector in August, Dr Rachael Molitor, Chartered Psychologist and Lecturer, was on hand to provide top tips to students on remaining calm via ITV.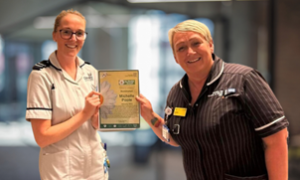 We're always looking to develop our innovation ecosystem and make a meaningful difference to the health profession. Developing and utilising the latest in teaching and learning technology is vital to this. In August, our virtual simulation experiences (VSE), which allows healthcare students and qualified practitioners an opportunity to experience real-life situations in a virtual world, was awarded the European Community Engagement Initiative of the Year award at the 2023 Triple E Awards in Barcelona.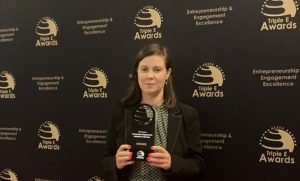 Strategic partnerships and our ability to offer support to those who need it are vital components in our approach to enterprise and innovation. Last month, we were delighted to share that the Centre for Care Excellence, our collaboration with University Hospitals Coventry and Warwickshire (UHCW) NHS Trust, was shortlisted for an NHS Allied Health Professions Research Impact Award. The awards ceremony will be held on 12 October and I'm wishing all those involved the very best of luck. The nomination alone is deserved recognition of the essential work we are doing in partnership with local healthcare providers. Outside of Coventry, for example, we were incredibly proud to announce in August that every nursing student who graduated from CU Scarborough found work within local NHS services, furthering the strong links we currently have with the region's NHS Trusts.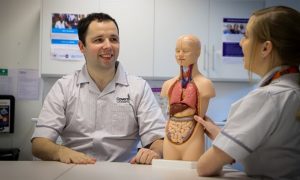 Finally, since the start of the month, several of our researchers have been involved in pioneering projects as we look to help solve real-world healthcare issues. Researcher Will Pattison hosted a football event for children diagnosed with cerebral palsy as he investigates how to improve their health and wellbeing, while The Centre for Postdigital Cultures hosted a playtesting event in collaboration with Manchester Metropolitan University to learn how computer games could be used to measure heartrates.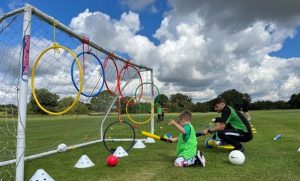 Healthcare is part of who we are at Coventry University Group and I'm incredibly proud of the fantastic work taking place across the Group. Whether it's through our students, academics, researchers or strategic partnerships, I am delighted to shed light on our ongoing commitment to improving the health and wellbeing of the communities around us, both now and in the future.
Signed
Professor John Latham CBE
Vice-Chancellor, Coventry University