The proportion of East Midlands businesses now selling green goods and services has almost trebled over the past seven years, according to new research by East Midlands Chamber and Derby Business School at the University of Derby.
In 2015, 16% of companies in Derbyshire, Leicestershire and Nottinghamshire derived turnover from supplying environmentally-friendly goods – such as energy efficiency, waste recovery and eco-food and drink products – but this increased to 45% in 2022 as more firms identified opportunities in the UK's race to net zero.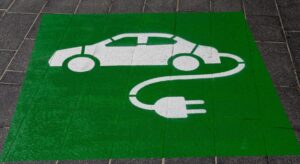 However, the Green Growth Trends in the East Midlands 2022 study, a unique piece of research of the regional growth trends over the past seven years, found that 35% of businesses still aren't engaged with green growth – with reasons cited including gaps in information, skills and access to finance.
The Chamber launched a Sustainable East Midlands initiative in 2020 that aims to educate firms about the importance of embracing low-carbon business practices in order to cut costs, win new contracts, and recruit and retain the best talent – while also signposting to funding opportunities.
Chris Hobson, East Midlands Chamber Director of Policy and External Affairs, said:
"The net zero agenda presents a big challenge to businesses but there is also a raft of opportunities for those eager to tackle it head-on by creating the products and services that will help steer the energy transition.

"Amid the current cost of doing business crisis, a move towards sustainable products and services could unlock the long-term efficiency gains that offset rising prices while creating a sustainable East Midlands economy.

"While it's great to see more engagement among SMEs, there remains a significant gap between large and small firms, and it's slightly concerning to see the number of organisations accessing business support has dropped in recent times.

"We need our decision-makers to develop policy mechanisms that are better aligned with regional business interests and specific sector needs in order to intensify engagement, while companies also need financial support to reskill and upskill our existing workforce. This will enable us to continue with the great progress we've already made in this generation's most important issue."
Other key findings from the research, which was based on responses from 372 organisations in Derbyshire, Leicestershire and Nottingham to the Chamber's Quarterly Economic Survey in February 2022, included:
There is a rising trend of diversification into green markets, with a four-fold increase (7.5% to 28.5%) in businesses reporting that between 1% and 19% of their turnover derives from green goods and services between 2015 and 2022
The proportion of businesses considering green growth as part of their business strategies has more than doubled over the past four years from 9.7% in 2018 to 21.5% in 2022
More than 80% of large businesses are actively pursuing green growth opportunities, compared with 61% of medium, 56% of small and 36% of micro-sized companies
Only 17% of firms surveyed said the current policy landscape allows them to fully engage with green growth
A third (33%) did not feel well-informed about the support available for green growth, although this was a drop from 42% in 2021
The largest demands for skills development are in the areas of energy and resource efficiency, renewables and access to green finance
Report lead Dr Polina Baranova, Senior Lecturer in Strategic Management at the University of Derby, said:
"It's been positive to see such a positive trajectory in the proportion of firms entering the green goods and services markets, with SMEs becoming more active in green growth.

"Regionally, as the opportunities for green growth are becoming more pronounced, there is a need for a holistic approach to supporting pro-environmental businesses."
Dr Fred Paterson, University Lead for Sustainable Business and Clean Growth, added:
"This growth is particularly encouraging in the context of the post-Covid economic recovery as it suggests there has been something of a 'reset' in how leaders are developing strategies to grow their business."
Dr Baranova will discuss findings from the research at East Midlands Chamber's Sustainability Summit on Thursday 22 September at the University of Derby's Enterprise Centre. Register for the free event.
For more information on how to access support and funding for green growth projects, visit www.emc-dnl.co.uk/sustainability.