Rolls-Royce Submarines Ltd has opened the doors of its new Nuclear Skills Academy in Derby. 200 new apprentices from all walks of life streamed into the Academy for what marks the start of their nuclear careers.
The Nuclear Skills Academy is the first of its kind and aims to sustain nuclear capability within the UK's submarines programme by creating a dedicated pipeline of talent at the start of their careers.
Based in Derby, the Nuclear Skills Academy is supported by industry and education experts, including the Nuclear Advanced Manufacturing Research Centre, the National College for Nuclear, the University of Derby and Derby City Council. This ensures new apprentices have access to the best courses and mentors throughout their apprenticeship.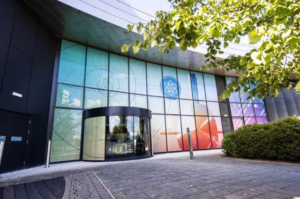 Rolls-Royce announced its plans for the Nuclear Skills Academy in May 2022 to huge interest from across the UK. With more than 1,200 applicants for only 200 places in its 2022-23 academic year it was narrowed down to successful candidates.
Steve Carlier, President, Rolls-Royce Submarines, said: "We are thrilled by the levels of interest in these apprenticeships, and it highlights how attractive a career in the nuclear sector really is.
"With the growing demand for clean, carbon-free energy and with our submarines contracts with the MoD likely to sustain us into the next century, this could be a job for life for our new apprentices.
"Having started with Rolls-Royce as an apprentice myself and being born and bred in Derby, the launch of the Nuclear Skills Academy is especially exciting for me.
"I'm delighted that we are leading the way in developing nuclear talent for the submarines enterprise and proud that it will all be done in Derby."
The Nuclear Skills Academy has the funding to provide 200 apprentices each year with nuclear education across a number of courses for at least the next 10 years. The support of key industry organisations in driving the project forward has been invaluable for Rolls-Royce.
The apprenticeships are spread across all functions of the business including: Engineering, Manufacturing and Business. They provide fully funded, further and higher education qualifications, while the apprentices receive hands-on practical work experience within the business.
Each of the courses are accredited through the University of Derby and National College for Nuclear.
Professor Kathryn Mitchell CBE DL, Vice-Chancellor and Chief Executive of the University of Derby, said the University was delighted to be playing a key role in equipping the future nuclear industry workforce with the skills and knowledge required.