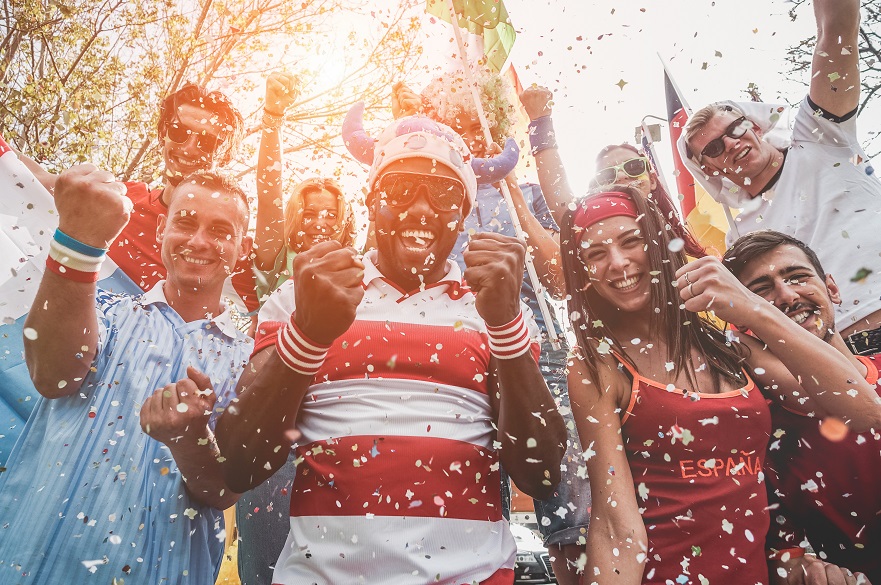 As Euro 2020 finally gets under way, David Cook and Dr Chris Pich, Nottingham Business School, write about their research which aims to uncover how the branding of major sporting events can help to bring communities together.
The Euros will look different this year, but they still have the potential to bring communities together in the wake of the pandemic.
Major sport events such as the UEFA Euro 2020 Football Championships are designed to encourage participation, unity, improve good governance, and enhance engagement for football fans around the world. The tournament is underpinned by a simple vision promoting 'togetherness for the future of football' and designed to align with its strategy 'for all football stakeholders to work together in a spirit of cooperation and togetherness – with the overall well-being of the European game always in mind'.
Relatively little is known about major sporting event brands. More specifically, there is limited insight into how they create and manage distinct, competitive and clear identities often designed to communicate and appeal to multiple stakeholders in a national and international setting. This is what we will be exploring using Euro 2020 as our focus.
To celebrate the tournament's 60th anniversary, UEFA Euro 2020 is being hosted on a one-off basis by 11 different cities spread across Europe, from Britain to Baku (The 11 cities: Amsterdam, Baku, Bucharest, Budapest, Copenhagen, Glasgow, London, Munich, Rome, Seville, St Petersburg). It is unprecedented that such a number of hosts have been tasked with facilitating such a prestigious major sporting event, and will consequently develop related yet distinct identities, or sub-brands.
We were in the process of conducting a number of interviews with industry specialists/insiders involved in the organisation of the tournament across a number of host cities until, along with all other sporting events, the tournament was postponed for 12 months in the wake of the Covid-19 outbreak.
Sport, as with most other aspects of life, was put on hold. Related industries have been decimated and many found themselves suddenly out of work. Our study aims to shed light on an under-developed and under-researched topic area, as the unparalleled and widespread branding and cultural circumstances of the tournament still offer an invaluable opportunity to assess the development of the major sporting event brand, the creation of city-based sub-brands, and an exploration of the relationships between the different hosts.
Brought to life with unpreceded access to key stakeholders, we intend to discover whether the brand will now take on a more symbolic image of hope in the minds of citizens and fans as the world continues its battle with Covid-19. Will Euro 2020 truly inspire togetherness not only for the future of football and more widely sport in general, but also encourage greater unity, cooperation, togetherness and well-being during and beyond these dark times?
Our research offers deep insight into how major sporting event brand identities are created and managed from an insider-expert perspective. Our findings highlight the existence of multiple identities – the corporate UEFA master-brand identity, related yet distinct from 11 host city sub-brands.
In addition, our research explores the degree of misalignment in strategy, which is encouraged between the host cities, in order for each to develop tailored identities to meet the wants, needs and culture of each jurisdiction. For instance, Baku, situated around 1800 miles from the next closest host cities of Bucharest and St Petersburg, has a very different strategy and target market for its games than London. Therefore, UEFA put forward a controlled wish-list and it is the responsibility of host cities to deliver and bring the sub-sports brands to realisation.
The tournament still offers vast potential to create positive experiences for stakeholders and establish long-term societal benefits, by allowing each city to tap into the communal warmth that the sport provides, whilst maintaining a level of consistency expected of a prestigious major sporting event.
Euro 2020 can be seen as a beacon of hope, positivity and an aspirational major sporting event brand for life beyond Covid-19. These major events have the power to bring people together and help re-connect societies once the worst of this crisis has passed. Notable events, such as Live Aid, have helped bring people together in the past.
We hope that organisers have used the postponement, where possible, as an opportunity to reflect, refocus, reassess, and adapt, forming a long-term, sustainable approach whereby sporting events can be utilised as important strategic vehicles for creating much-needed value for society. They represent something to be looked forward to, even longed-for – instrumental in helping to raise morale, re-unite people, and re-build communities in the wake of this devastating time.