The UK's Real Estate Investment and Infrastructure Forum (UKREiiF) recently hosted its highly anticipated annual industry event from 16th-18th May 2023. One of the notable speakers at the event was Helen Donnellan, Director of Midlands Enterprise Universities (MEU), who shed light on the pivotal role education places play in driving economic regeneration.
UKREiiF connects people, places and businesses to accelerate and unlock sustainable, inclusive and transformational investment. It's event has become the must-attend event in the industry, supported by a high number of regional combined authorities, local councils and Government departments – as well as the largest developers and investors from across the UK and Internationally. This year's event provided a unique opportunity for industry leaders to gain valuable insights into the transformative power of education places in driving economic growth.
Helen Donnellan insightful presentation emphasized the collaborative efforts of the MEU in championing the region and overcoming challenges to foster a thriving economy. Helen said, "Each of our universities are embedded as anchor institutions for their cities. Many students are local, their staff live locally and we help to create positive change and drive innovation by working closely with local authorities, business organisations and employers directly."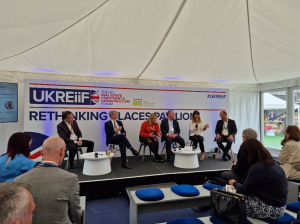 While speaking on the impact of universities on the economy and culture, Helen Donnellan, who also is the Pro Vice-Chancellor, Regional Business and Innovation at De Montfort University, said "The economic benefits of a university of large FE college on an area in terms of boosting employment, raising aspirations through widening participation programmes, working alongside partners to create a vision for the area are huge. De Montfort University in Leicester commissioned a repot on its impact on the city, which was worth £250m to the local economy. It supported 7,800 full time jobs across the UK and one in every 30 jobs in Leicester could be traced back to the university."
"We want our cities to thrive, to become places where businesses want to move to, where families can grow and where our graduates can see themselves remaining once their studies are finished. The opportunities are here with engaged universities and the business community, we need to find the ways to unlock this potential."
Helen also explained that Universities as civic institutions, have a profound responsibility to be deeply connected and embedded within their communities. Beyond providing education, universities have the potential to drive positive change by conducting research that addresses local challenges and contributes to the betterment of society.
"We as a sector are hugely influential in place-making, in supporting the work of local authorities to create cities which are vibrant community spaces. We are involved in research looking at how cities can be re-imagined post-Covid, looking at strategies that bring culture, retail, business and how we use our spaces to create economic and social value. Our students have been involved in consultations about how we re-imagine the university experience on campus post-Covid."
"By improving our city centre campuses, opening them up to the public we can make them part of our cityscapes. By working together, we can support businesses, keep the skills in the area and stop the 'brain drain' from our region. Universities actively collaborate with businesses to understand the skills needs and design courses to meet their needs. The employer engagement boards are a common way of engaging businesses in the learner curriculum at universities and FE level and in creating CPD courses"
The insights shared at the event underscored the transformative power of education places and reinforced the importance of collaboration for sustainable and inclusive economic growth. By forging strong partnerships with businesses, the knowledge and skills acquired through industry-informed educational programs empower students to make meaningful contributions to their chosen fields upon entering the workforce.