More than five hundred health care professionals who worked on the front line during the COVID-19 pandemic have graduated from the University of Wolverhampton.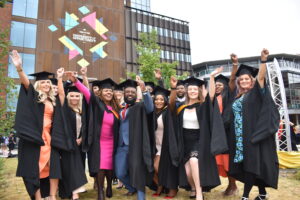 The Class of 2021 who studied at the School of Nursing, School of Allied Health and Midwifery and School of Public Health celebrated their graduation at Wolverhampton Grand Theatre.
Graduates across the health care sector, including nursing, paramedics and mental health services experienced first-hand the impact of the pandemic by working alongside key workers on their student placements.
Adult Nursing Degree Apprentice, Kelly Doleman is one of many students who continued to work on the frontline throughout COVID-19 and has graduated today (July 21
Kelly, who is a mum of two, said: "It was a tough experience; I have witnessed things most people won't see in their lifetime. It's taken a lot to get through but I'm proud of what I have achieved and to be graduating today.
"It's been a long time coming but it's lovely to reunite with the friends I've made here at university and to be celebrating together."
Clare Dickens, Mental Health and Wellbeing Academic Lead at the University said: "This is one of our largest cohorts and they were smack-bang in the middle of their studies when the pandemic hit. They were out on placements and given the option to opt-in or opt-out to continue working on the frontline during COVID-19.
"Every graduate celebrating today is a hero, the claps on our doorsteps were for them.
"It's been fantastic to see them here today celebrating with their families, I'm incredibly proud of each and every one of them."
Kasim Bashir Raja, Lecturer in Nursing said: "I would like to congratulate all our graduates on their achievements, hard work and dedication.
"I am extremely proud to have worked with them throughout their student journey and pleased to be here today to celebrate their success.
"This particular cohort has been fantastic in their ability to adjust and adapt to the changing climate of COVID-19 and multiple lockdowns. It has been a unique, interesting and historical journey and they should be very proud of what they have achieved."