The Midlands Economic Summit is organised by Nachural Events with Midlands Engine as the Headline Sponsor. The programme will feature several short 'power pitches' as well as four 45min panel discussion on the themes of Innovation, Green Growth, Investment and Levelling Up, as well as keynote addresses from Sir John Peace, Mayor Street, and a Labour and Conservative politician respectively.
Ahead of this week's Wednesday event, the Business Influencer magazine features an article by Sir John Peace on Levelling Up. In the article, Sir John tackled the numerous obstacles to economic growth and inward investment in the Midlands, ranging from a lack of adequate transport to energy security, and how they can only be solved by bringing together dynamic voices and ideas from industry, academia, and local government.
"Only by connecting the dots through real, proactive collaboration can we deliver on the promise of levelling up – a fairer, more balanced society in terms of demography and geography for the eleven million people in our region, and indeed across the country"
"Coming from Nottinghamshire, I'm a proud Midlander. Throughout my business career spanning fifty years and multiple sectors, and now in my role as Chairman of the Midlands Engine Partnership and Midlands Connect, I've seen first-hand the transformative effect true collaboration is already having in our communities. And I also understand just how much more is possible."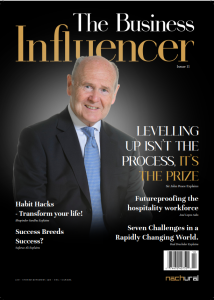 Sir John also highlighted Green Growth as one of the many opportunities to drive inclusive economic growth and the wealth of talent to make it happen. Sir John Peace said, "One of the most fertile sectors for collaborative  opportunities is green growth. The Midlands Engine Partnership has a clear focus on the green growth agenda and supporting businesses to take advantage of these opportunities that are so crucial to boosting our regional economy"
"Central to this is optimising the region's supply chains and getting more freight off our roads and onto our railways. 80% of all freight in the UK travels through the Midlands – shifting this onto rail will cut emissions, reduce road  congestion, and provide a more efficient gateway for businesses to access the wider world."
Midlands Engine partners from across the region are responding with speed and purpose in this arena, establishing an ambitious Ten Point Plan for Green Growth in 2019 and co-authoring a unified Hydrogen Technologies Strategy in 2021. This concerted approach has helped to deliver tangible progress, such as the decision to site the UK Atomic Energy Authority (UKAEA)'s pioneering prototype fusion power station at West Burton.
In the article, Sir John explained how in Birmingham, the Transport for West Midlands had recently succeeded in acquiring ZEBRA funding for a further 124 hydrogen buses to come on line in 2024, adding to an existing fleet of 20, making the city home to Western Europe's largest hydrogen bus fleet.
"Our region has also seen the UK's first hydrogen-powered train developed by the University of Birmingham in collaboration with Porterbrook as part of the HydroFLEX project."
Sir John concluded by explaining how there is a need to achieve a levelled-up country, however, a shift in thinking from seeing levelling up as the solution in itself, to seeing it as the end goal is essential as actions will need to be taken to achieve it.
"Only by working together, attracting investment and addressing our skills shortage can we drive the economic growth necessary to successfully level up our communities and provide opportunities for people across the UK"