Students will benefit from more joined-up support from their universities thanks to the creation of the first ever Student Support Champion.
Higher and Further Education Minister Michelle Donelan has appointed Edward Peck CBE, who is Vice-Chancellor and President of Nottingham Trent University, as well as chair of Midlands Enterprise Universities, to the new role.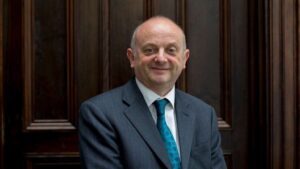 It has been established to help universities make sure students complete their studies and have access to extra help if they need it.
The appointment comes following the disruption faced by students during the pandemic. The new champion will advise universities on keeping students engaged with all aspects of campus life including how to spot the early warning signs of students who are struggling with their studies or mental health.
It follows a survey published by the Higher Education Policy Institute (HEPI) and AdvanceHE showing mental health is the most common reason students give for considering dropping out.
"Evidence shows that a student becoming disengaged with their course…is a critical warning sign for mental health issues, which, as we know, if left unchecked can lead to devastating consequences," Donelan said.
Among other initiatives, the new champion is expected to encourage universities to adopt technology systems designed to spot early signs that students are struggling so they can get support sooner.
"Critical warning signs present an opportunity for prevention, hitting the problem at the source and helping to defend students against mental health issues before they strike," Donelan said.
"Ensuring that we are focussed on combatting student disengagement will result in better attainment and of course better outcomes," she added.
In the next two years as Student Support Champion, Edward Peck will advise universities on how they can better monitor the student population, including through technologies such as Customer Relationship Management systems. These systems can flag the early warning signs of those who are struggling by monitoring data such as attendance and library collections.
Mr Peck said: "I am enthused and encouraged that Minister Donelan has asked me to champion ways in which higher education students can be supported to continue and complete their studies. She is right to highlight the challenges both providers and students face, including those around mental wellbeing, in order for us to seek improvement.
"There is a determination within higher education institutions to get this right and I will promote effective and evidence-based best practice across the sector, enabling Universities to offer the widest possible range of ways to engage students."