Nearly half a million pounds has been awarded to a project led by local start-up Ashmount Services Ltd in collaboration with DMU, to develop a new way to support doctors with their training.
According to the Clinical Medicine journal, one in five invasive procedures ranging from heart surgeries to endoscopies result in complications, 40% of which are believed to be preventable.
The Innovate UK Smart grant, awarded by UK Research and Innovation, will give experts from DMU and Ashmount Services Ltd 18 months to develop SIMS – the world's first medical training of its kind.
Pairing specialist medical mannequins and cutting-edge AI will provide doctors with personalised training, allowing them to practice medical procedures over and over again, saving the NHS money on training costs and ultimately increasing patient safety.
Leading the development of SIMS is principal investigator Dr Farukh Farukh from DMU's School of Engineering and Sustainable Development, specialising in material, manufacturing and sustainability. DMU's artificial Intelligence and machine learning expert Dr Daniyal Haider, from the School of Computer Science and Informatics, is co-investigator on the project.
Dr Farukh said: "Current training is provided by university hospitals as one-day courses and it costs around £100,000 to set up each training facility, yet studies indicate that confidence in performing some of these invasive procedures could be as low as 18% after training.
"I'm also delighted to be working with and supporting a local Leicester company to grow and thrive, while creating a positive and meaningful change for the people across the UK who rely on the NHS being a world-class health system."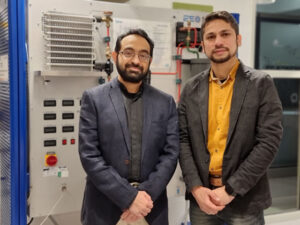 Doctors Mohsin Zaman and Hisham Haq are leading the project for Ashmount Services Ltd, a company experienced in working with NHS consultants and trainees to provide accredited training to doctors across the UK and internationally.
Dr Zaman said: "Due to the Covid-19 pandemic there is an urgent demand to disrupt traditional ultrasound-assisted procedures and training. The technology exists for us to tackle the huge backlog for patients and processes while we continuously strive to improve patient safety.
"SIMS will provide a competitive edge and a unique value proposition to secure a significant market share of the global medical training market and I'm looking forward to expanding the appeal of this offering globally."
Unlike what's currently available, the AI used for SIMS will show scanned X-ray and CT scan data in real-time, allowing trainees to carry out a procedure on specialist medical mannequin multiple times, while providing valuable feedback.
The modular mannequin design allows relevant parts to be passed through a heated cycle to remove the needle holes produced during training sessions, making them more durable.