One of the two Coventry University projects that is being supported by Whitespace is The Resilience Beyond Observed Capabilities Network Plus (RBOC N+). Led by the Centre for Trust, Peace and Social Relations, this national security project worth more than £4 million aims to create new knowledge and capabilities to help the UK prepare for security threats in the coming decades.
Powered by Shift Platform, a white-label ecosystem and community collaboration tool developed by Whitespace, the project launches by creating a mock scenario of a catastrophic attack on digital and energy networks set in the year 2051.
In responding to the scenario, the RBOC N+ will investigate what vulnerabilities could be exploited by attackers and what techniques and capabilities could be used by public authorities to prepare for and respond to such attacks.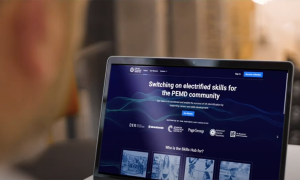 The second initiative is the Electric Revolution Skills (ERS) Hub. The Hub aims to accelerate and enable the success of UK electrification by supporting careers and skills development by connecting the Power Electronics, Machines and Drives (PEMD) community.
This follows on from Coventry University's successful proposal to support the Government's targets to move to electrification technologies and create world-leading supply chains and expertise for the manufacture of PEMD in the UK.
Whitespace have supported the ERS Hub in the creation and launch of an integrated digital platform that gives inclusive access to training, development, and jobs across the nation.
Paul Noon, Pro-Vice Chancellor – Enterprise and Innovation, said: "I am delighted we have agreed a strategic relationship with Whitespace, who bring innovation and technical capability to support Coventry University's desire to generate impact across the wide range of communities we serve"
"Both organisations see multiple opportunities to collaborate and innovate, bringing new capabilities and technology to bear on some of our greatest challenges."
This strategic collaboration looks to bring Whitespace's domain security knowledge, technical development, and artificial intelligence capability together with Coventry University's research and innovation expertise. This blend of academic excellence with innovative technical capability aims to create opportunities across multiple sectors to generate and disseminate knowledge.
Andrew Webber, Chief Commercial & Marketing Officer at Whitespace, expressed how excited he was about how the collaboration. He said: "the collaboration between the two organisations brings the best of our joint capabilities in support of a number of future collaborations in the field of AI/ML developments, platform developments and thought leadership collaboration."
Whitespace Global Ltd comprises a team of researchers, engineers and technologists who support organisations to design, develop and build new ideas, products, and ventures.